HEALTHIER PUMPKIN CHOCOLATE CHIP GIANTS
July 31, 2023
54 Views
KimYuan
Hold on to your hats, people!
I actually captured a photograph of something edible. Something delicious. Something for YOU!
You guys, I have to confess that I have been mentally opposed to #pumpkiningallthethings this season. It could be because I took a beach vacation at the end of September, or maybe because the food industry has really out-pumpkined itself this year. I mean, Pumpkin Spice Pringles is taking it past the point of no return. Put your thinking caps on, guys. You can do better!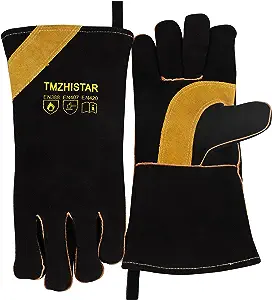 Nevertheless, I had a can of pumpkin in the pantry and I remembered this old Oven Love recipe for Pumpkin Chocolate Chip Giants. I hadn't pulled it up in a while, and when I did, I saw some ingredients in that recipe that I'm not really friends with anymore- namely white sugar and canola oil (all-purpose flour and I only see each other when absolutely necessary). So I embarked on some kitchen experimentation to see if I could substitute some pantry items and make it work.
I swapped out the white sugar for coconut sugar, used coconut oil instead of canola and substitute freshly-milled soft white wheat flour for the all-purpose. I knew by looking at the batter that they wouldn't come out exactly the same, but I was hopeful.
The cookies bake up nice and puffy- no spreading, which I love. The texture isn't quite as airy with the coconut sugar and whole grain flour, but I kind of liked it that way. The cookies had a nice nutty flavor that they didn't before. You'll definitely need a glass of milk with these if you eat them straight out of the oven, but they will relax after resting for a day or two.
If you loved the original recipe, I'd encourage playing around with it and substituting your own favorite pantry items. Recipes are more flexible than you think!
5.0 from 1 reviews
Healthier Pumpkin Chocolate Chip Giants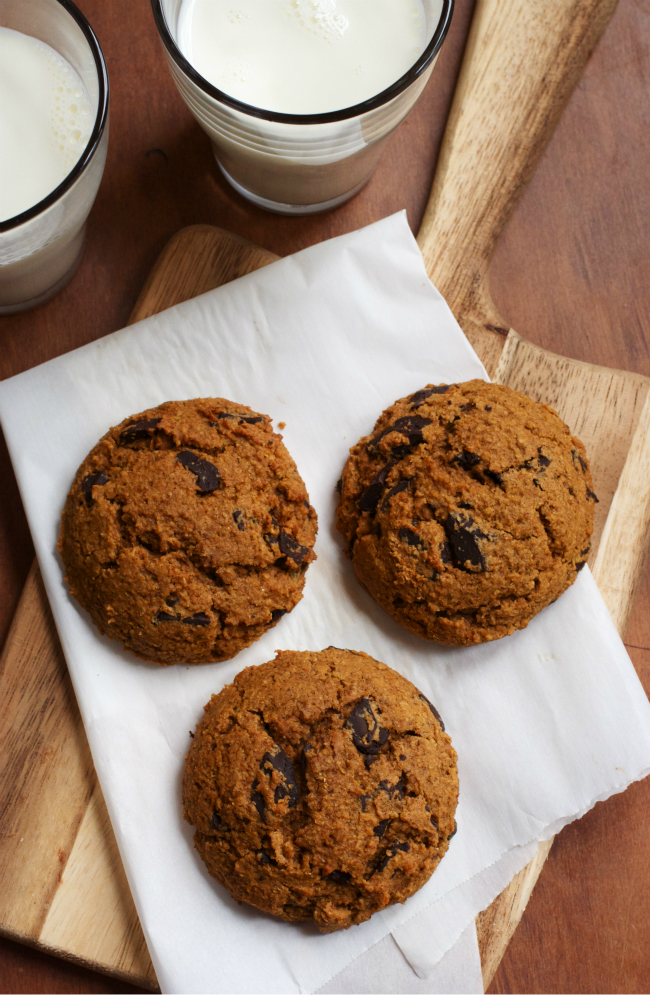 Prep time
10 mins
Cook time
20 mins
Total time
30 mins
Author: Oven Love
Recipe type: dessert
Serves: 16
Ingredients
1 cup canned pumpkin
1 cup coconut sugar
½ cup melted coconut oil
1 egg
1 teaspoon milk, dairy or non-dairy
1 tablespoon vanilla extract
2 cups whole grain flour (I used soft white wheat that we grind at home, but you could use a store-bought whole grain flour of your choice. I would think you could substitute a cup-for-cup gluten-free blend here as well with no problem.)
2 teaspoons baking powder
2 teaspoons ground cinnamon
½ teaspoon salt
1 teaspoon baking soda
2 cups chocolate chunks or chips
Instructions
Preheat the oven to 350 degrees and line three baking sheets with parchment paper.
Whisk pumpkin, coconut sugar, coconut oil, egg, milk and vanilla in a large bowl. In another bowl, stir the dry ingredients.
Add the dry ingredients to the pumpkin mixture and mix well. Add chocolate and stir to combine.
Scoop batter with an ice cream scoop and drop onto the parchment paper, leaving space between the cookies. Bake for 8-10 minutes, rotate in the oven, then bake 8-10 minutes more until puffed and set in the center.
Let cool on wire racks before serving and store in an air-tight container.