Heat Output and Efficiency (Gas Vs Electric Fireplace)
July 28, 2023
60 Views
KimYuan
Energy Efficiency and fireplace heat output are important factors when deciding between electricity and gas fireplaces.
Gas Fireplace
When referring to gas fireplaces (ventless and vented) the BTUs (British Thermal Units) are higher than electric fireplaces. The BTU generated is between 20,000 – 40,000 per hour. Due to the higher BTU, there is more power which equals a more steady, consistent heat and realistic flames. A gas fireplace is an excellent choice to heat large areas of the home.
Electric Fireplace
On the other hand, electric fireplace BTUs generate between 3,000 – 10,000 per hour. This implies a lower heat output. Consequently, the heat does not reach as many square feet as a gas fireplace.
Electric fireplaces may have lower heat outputs than other types of fireplaces. However, they can convert nearly all of the input energy to heat, making them highly energy efficient. They are also the best for small spaces and rooms to help cut out the chill, especially in winter.
Best For Heat Output and Efficiency: Gas Fireplace
The best fireplace for heat output and efficiency are gas fireplaces due to its higher BTUs and its capability to heat larger homes.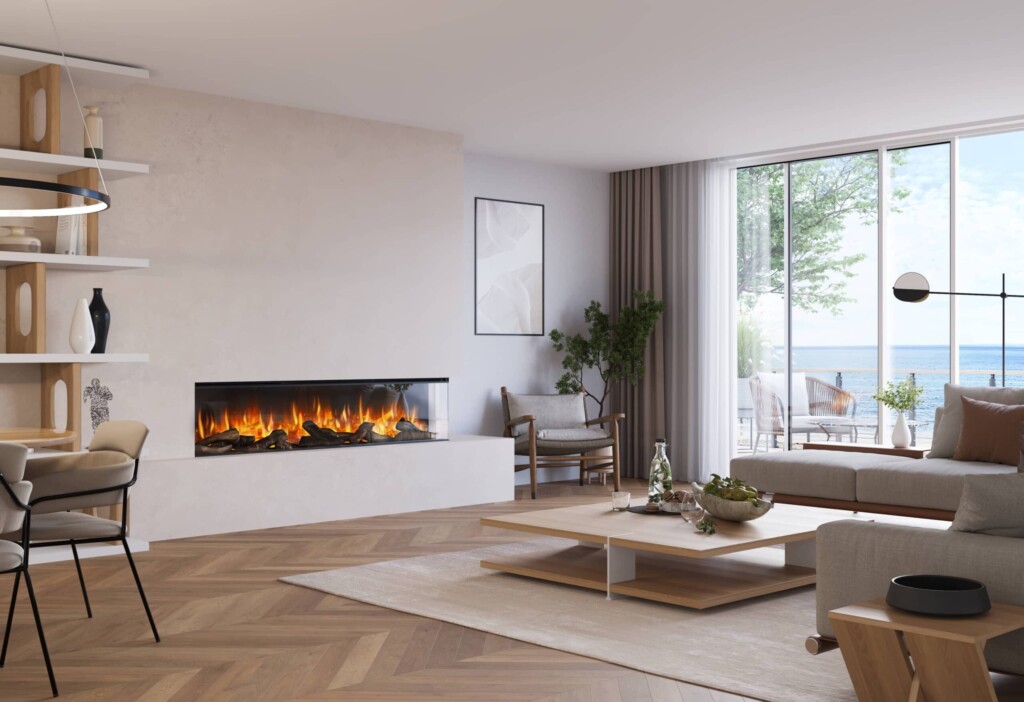 Installation and Setup (Gas Vs Electric Fireplace)
When considering a home upgrade such as a fireplace, installation is a crucial point to consider before deciding what fireplace is best for you and your home.
Gas Fireplace
The process to install a gas fireplace will be more complex and can cost more than an electric unit. However, once installed, you'll have a long-term home heating solution. A gas fireplace will also require a gas line within the home and may need a chimney depending on the type of fireplace (direct vent, ventless etc.)
Electric Fireplace
As for an electric fireplace, it is easier to install and is more and can be completed without a professional installer. You will also have a choice of fireplace styles such as wall-mounted units or stand-alone fireplaces. An electric fireplace won't require any venting, a chimney or combustible fuel. Also, double-check your electrical load and voltage before installing an electric fireplace.
Best For Installation And Setup: Electric Fireplace
The best fireplace for installation and setup would be electric fireplaces due to most electric fireplaces working out of box.